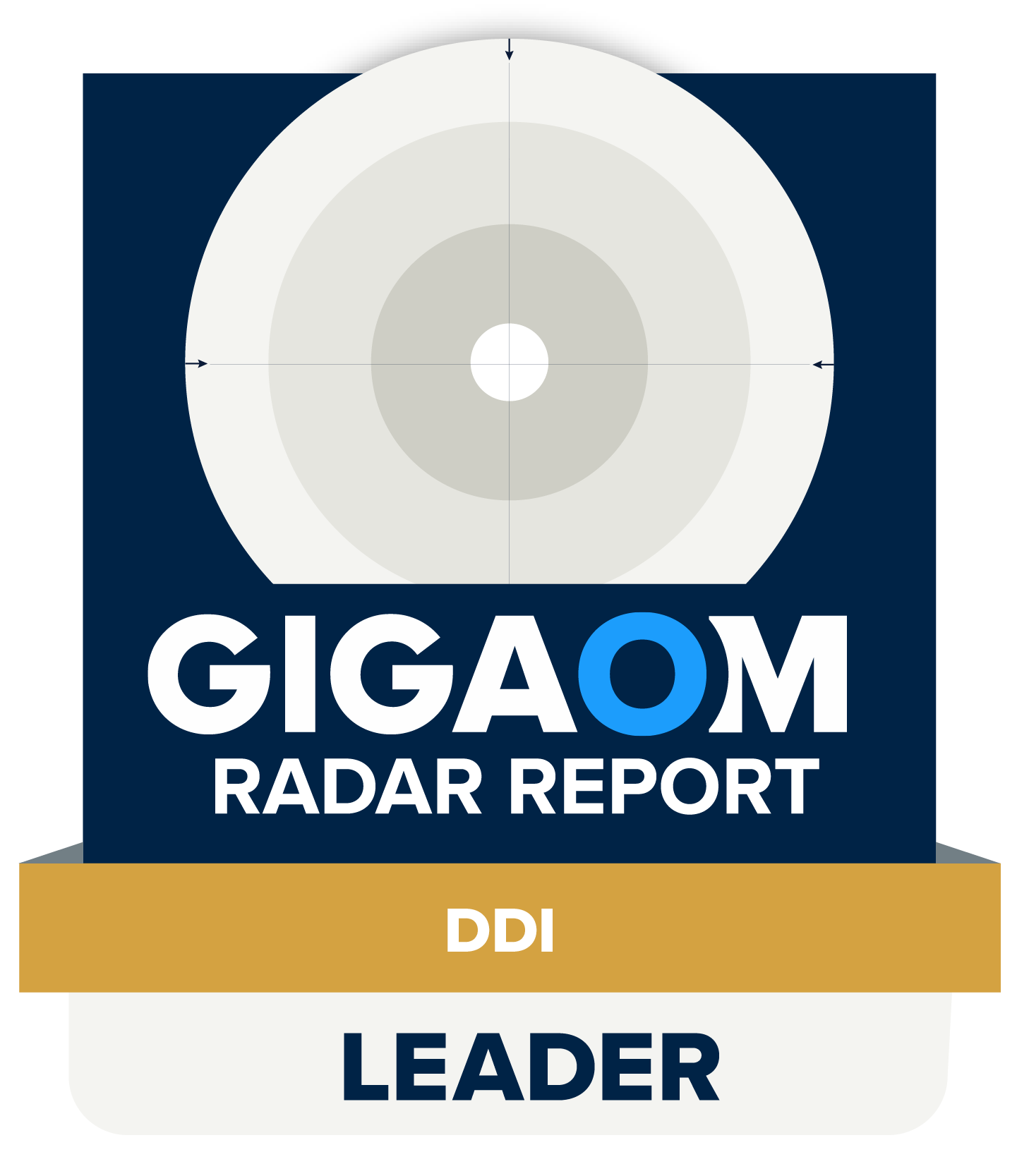 Introduction
Networking technologies and internet dependence are now integral aspects of business operations. Enterprises now routinely require critical infrastructure and systems like IP Address Management (IPAM), to ensure smooth and continuous delivery of applications and essential services.
As technologies like Edge cloud and IoT gain importance in production, communications, and service delivery, organizations require technology partners & infrastructure or service providers that are capable of meeting enterprise needs, and the increasing demands of application users and consumers.
GigaOm recently published a comprehensive and enlightening report on DDI to evaluate the key players in the market. In this first series of related articles, we will consider some of the criteria that the report recommends, for assessing the performance of networking technology providers.
Base Requirements for Technology Solutions
The GigaOm report identifies several key features that should be taken as standard, for modern networking solutions. They include:
Integrated DNS, DHCP, and IPAM (DDI)
Integrated DDI solutions provide network administrators with "single pane of glass" visibility into the relationships between devices, users, and IP addresses. This visibility and control enable administrators to easily automate routine maintenance tasks that ensure network resiliency, security, and scalability. Freedom from addressing conflicts and the ability to update records in real-time enables the selective deployment and seamless management of Bring Your Own Technology (BYOT), Internet of Things (IoT), cloud, virtual, and emerging technologies.
Built-in DNS Management
Role-based and purpose-built DNS management platforms enable network administrators to configure, manage, and visualize all aspects of DNS operations across cloud, physical, and virtual environments at scale. Systems with intuitive user interfaces (UIs) that incorporate DNS monitoring, security, and traffic control empower administrators to apply policies that prevent unauthorized access, simplify the tracking and monitoring of DNS assets and resources, and integrate with third-party security products to increase an organization's capacity to anticipate and mitigate threats.
Built-in IPAM Management
With advanced IP scanning and IP address tracking, IPAM enables network administrators to effectively manage IP addresses from a centralized console. With a single source of truth for all network assets, administrators can organize, track, and fine-tune data relating to a network's IP address space.
Meeting Specific Demands for Your Business
Selecting the best DDI option for your business depends on your organization's use cases, existing DNS and DHCP solutions, network architecture choices, and in-house capabilities. The kind of DDI solution you adopt (GigaOm classifies them as integrated, overlay, or managed) will likely depend on your current IT environment, growth plans, and in-house skill sets.
Using the GigaOm Radar to Fine-Tune Your Choice
The GigaOm Radar provides an evaluation matrix for assessing the performance of different vendor solutions in comparison with each other. The chart plots vendor solutions across a series of concentric rings, with those set closer to the center judged as being of higher overall value.
The GigaOm Radar evaluates each vendor by its performance on two axes -- Maturity versus Innovation, and Feature Play versus Platform Play. The radar arrow length indicates each solution's predicted evolution over the coming 12 to 18 months.
Maturity recognizes the stability of a solution, the strength of its ecosystem, and a conservative stance on the part of the vendor. Innovation highlights technical innovation and a more aggressive approach on the part of the vendor.
The X-axis value of Feature Play indicates a narrow focus on a niche or cutting-edge functionality. The Platform Play value indicates a broader platform focus and commitment to a more comprehensive feature set.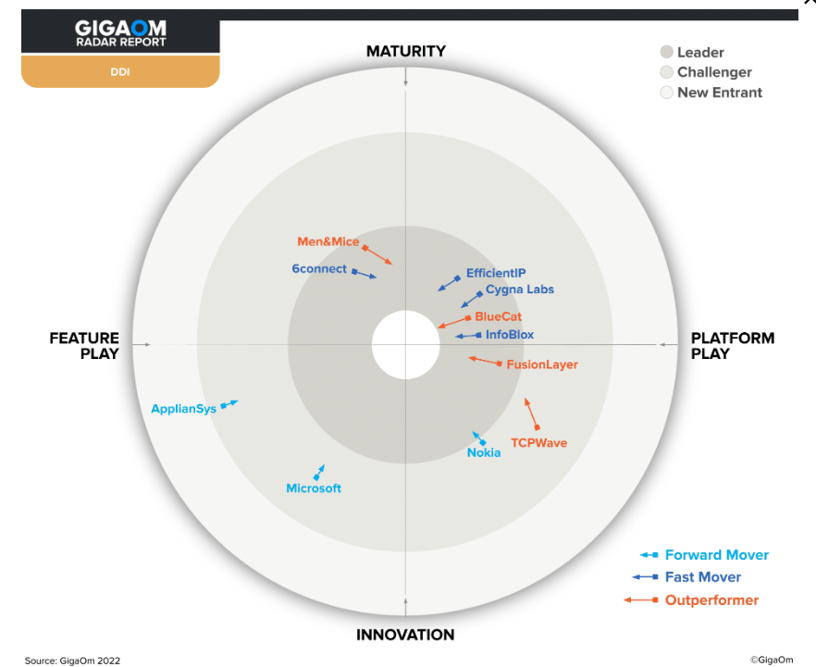 Note the following:
Vendors in the upper right-hand Maturity/Platform-Play quadrant offer fully featured DDI solutions with a choice of integrated, overlay, and DDI as a service (DDIaaS) delivery models.
Those in the upper left-hand Maturity/Feature-Play quadrant put their priority on modern overlay DDI solutions.
Vendors occupying the bottom right-hand Innovation/Platform-Play quadrant offer integrated and overlay solutions, with options to add DDIaaS capabilities.
Vendors in the bottom left-hand Maturity/Feature-Play quadrant only offer legacy integrated DDI solutions, including appliance-based hardware-only solutions.


Based on its assessment of the current market, GigaOm identifies seven vendors which occupy the Leaders circle (6connect, BlueCat, Cygna Labs, EfficientIP, FusionLayer, Infoblox, and Men&Mice) and four Challengers (ApplianSys, Microsoft, Nokia, and TCPWave).
As the enterprise, the telecom, and the service provider customers have traditionally had somewhat different requirements for DDI solutions, GigaOm also investigated how different DDI solutions fit different customer use cases. When looking at the service provider and telecom verticals, GigaOm singled out FusionLayer for its exceptional focus and execution in this part of the DDI Market.
To read the full market study, please click here for complimentary access to the report.