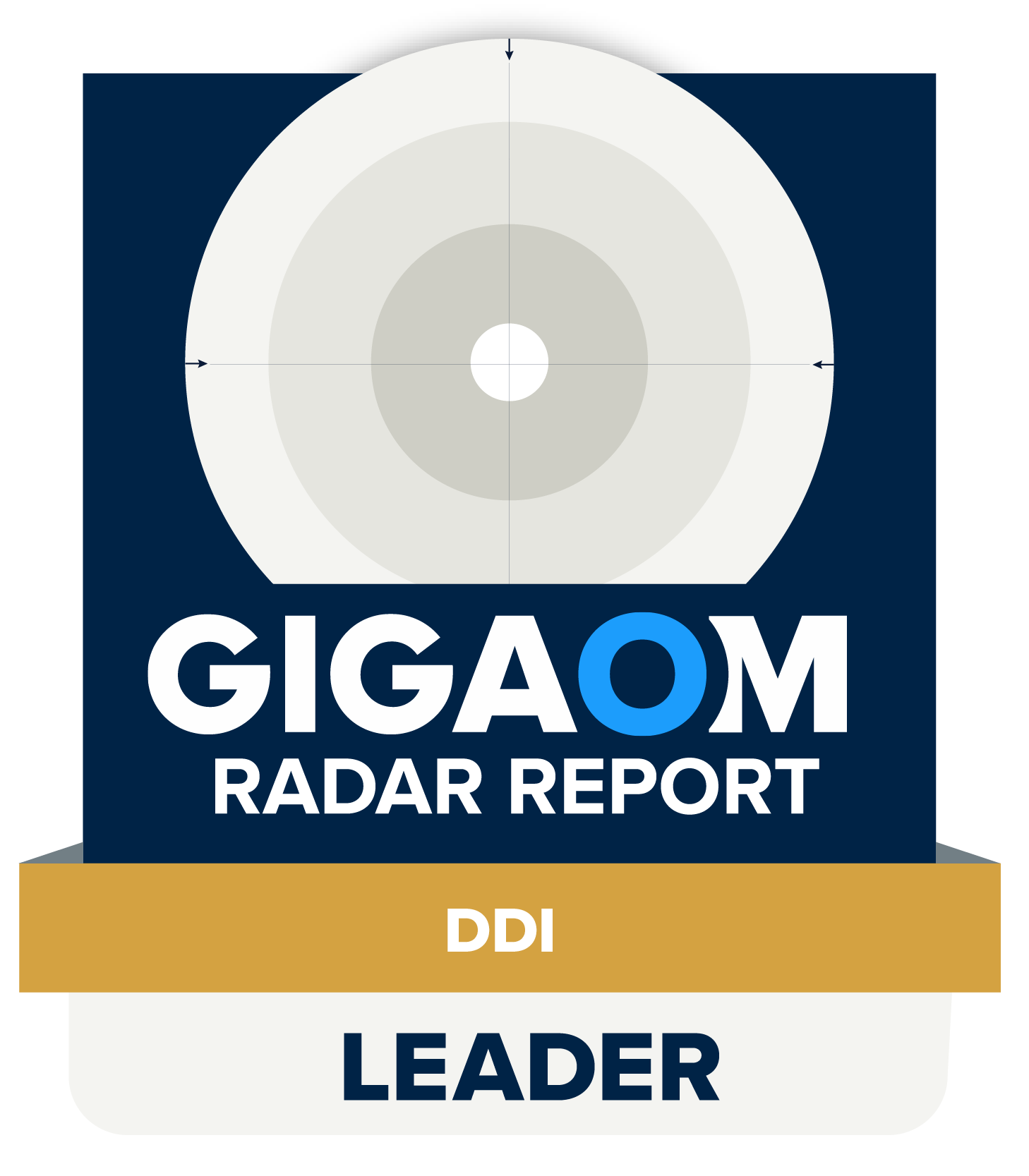 Introduction
A DDI solution integrates three core components into a single network management platform: A Domain Name System (DNS) ensures the proper association of network hostnames and IP addresses and provides access routing for network applications and services. Dynamic Host Configuration Protocol (DHCP) automatically assigns a dynamic IP address for nodes logging into a specific network. An IP Address Management (IPAM) facilitates the automated organization, monitoring, and control of a network's IP address pool.
However, not all DDI solutions were created equal. Choosing the best option for your organization depends on your use cases, existing DNS and DHCP solutions, network architecture choices, and in-house capabilities.
GigaOm recently published a comprehensive and enlightening report on DDI which evaluates the key players in the market, in line with its companion study outlining the key criteria necessary for evaluating DDI solutions. In this article, we'll look at these criteria, and GigaOm's assessment of how some leading DDI solution providers are able to fulfill them.
Evaluation Criteria for Selecting a DDI Solution
Your current environment, growth plans, and in-house skill sets will most likely influence your decision about adopting an integrated, overlay, or managed DDI solution -- which are the three principal deployment types recognized by GigaOm. Whichever deployment option you choose, you will need a flexible, scalable, and efficient DDI solution that allows you to expand the capabilities of your current system while reducing the Total Cost of Ownership (TCO).
With these general directives in mind, you should assess the following criteria before making your final selection:
The Format of the Solution
DDI solution formats typically present as hardware-based, software-based, cloud-based, or open-source. Each format will have particular permutations in terms of cost, the lifespan of the system, features, and availability.
From a price perspective, hardware solutions tend to cost the most and may have a short lifespan, as new technologies emerge to replace existing installations. Due to upgrades and patches, software solutions tend to last longer but may impose a significant cost burden on licensing. Certain software solutions may also only be compatible with specific hardware.
Cloud-based DDI solutions may require software specifically designed for the cloud and may tie users into a specific cloud platform. Open-source solutions tend to be inexpensive and may provide system developers with a wider range of options for customization. However open-source base systems may be lacking in their range of features.
Functionality and Features
In order to establish what feature set or functionality you require from a DDI solution, you will need to look at your network's infrastructure and the traffic load that it handles. Make an assessment of what tasks need to be completed, and choose a tool that can effectively automate them.
Security Considerations
Since DDI plays a major role in network management, it also has serious implications for network security. Most DDI solutions will be capable of identifying and isolating an unauthorized interaction. You may however need to pay a premium, for a system that can also take proactive steps to prevent unauthorized intrusions in the future.
Ability to Scale
Some DDI solution formats come with renewal periods, which can leave you paying for services that you no longer want or need. Moreover, as your business requirements and the scale of your enterprise change over time, such solutions may prove inadequate as your business expands or diversifies.
Before selecting a DDI option, you should first envision what your business and network will look like in the years to come. Then, look for a DDI solution that can accommodate both your current and anticipated needs.
What Leading DDI Solution Vendors Have to Offer
With these and other evaluation criteria in mind, GigaOm has made an assessment of the performance of leading DDI solution vendors in the current market. This is summarized in the table below: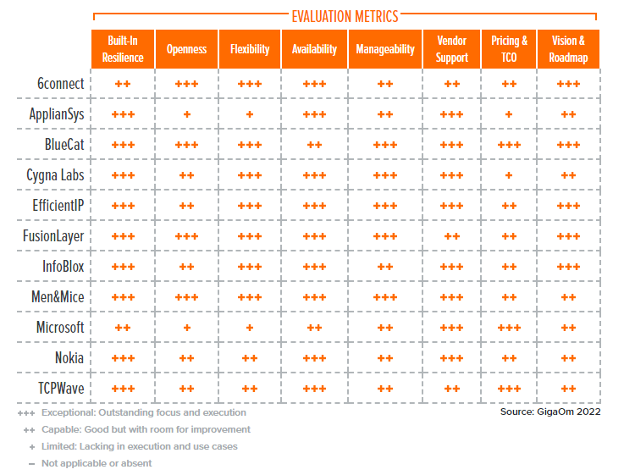 [Image source: GigaOm]
As the table clearly indicates, FusionLayer ranks as Exceptional (with Outstanding focus and execution) in six of the eight evaluation metrics cited by GigaOm -- Built-in Resilience, Openness, Flexibility, Availability, Manageability, and its Vision & Roadmap.
Notably. FusionLayer Infinity provides a network source of truth (NSoT), enabling automated, zero-touch deployment and configuration. Infinity supports centralized management of on-premises and edge and public cloud subnets, IPs, and VLANs in multitenant environment subnets, including AWS VPC subnets and Azure VNET. Leveraging a patented security architecture based on least privilege and defense in depth, FusionLayer DNS includes embedded intrusion prevention and firewall capabilities to protect against DDoS attacks, rate-limiting, and source randomization, and support for ACLs, DNSSEC, TSIGs, and RPZ Feeds.
To read the full market study, please click here for complimentary access to the report.