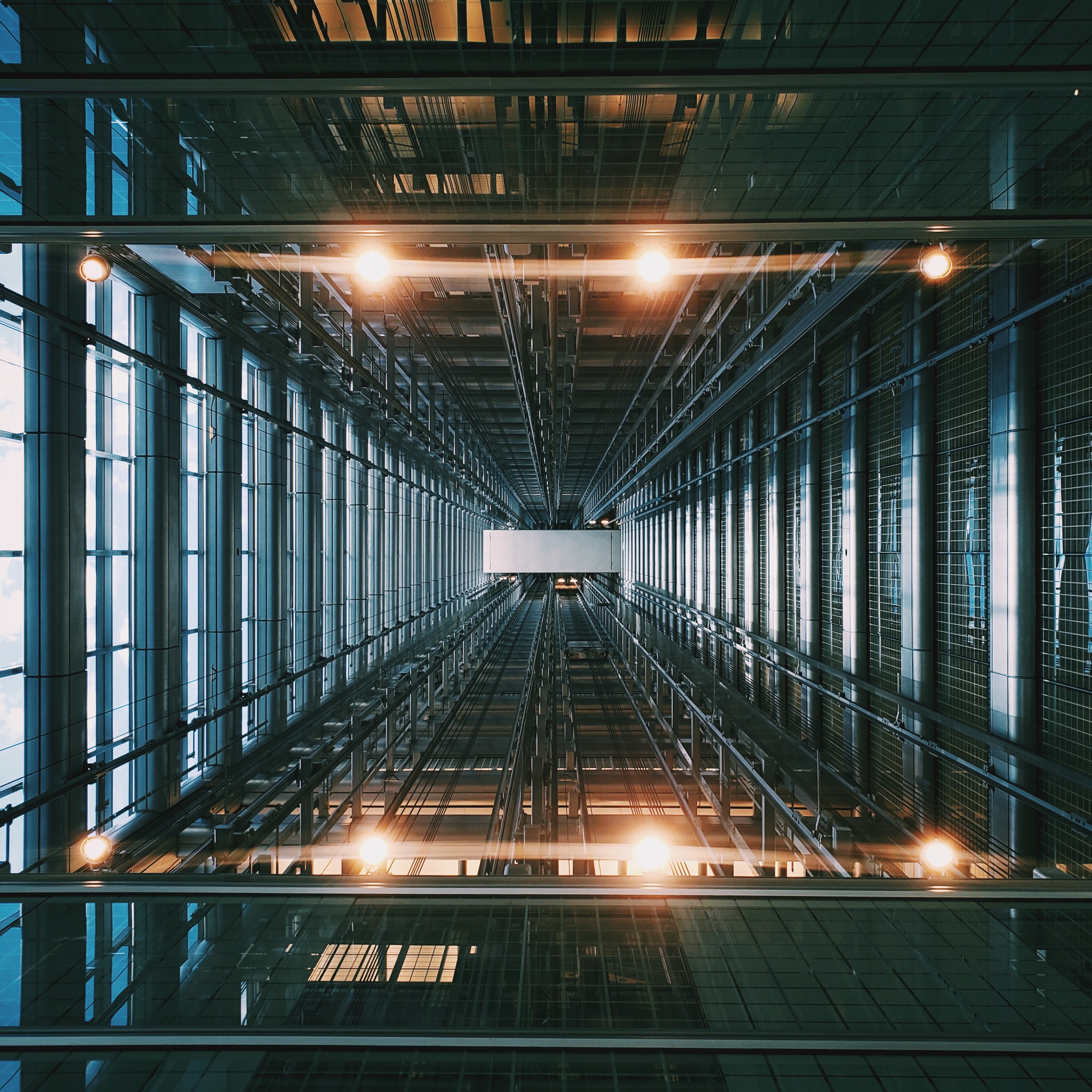 Introduction
With the expansion of IoT, multi-device, and multi-cloud environments, together with the proliferation of security threats that traditional architectures are ill-equipped to handle, DDI is increasing in importance.
DDI is a blanket term covering three core components: DNS, DHCP, and IPAM. The Domain Name System (DNS) guarantees the association of network hostnames and IP addresses and provides access routing for network applications and services. The Dynamic Host Configuration Protocol (DHCP) automatically assigns a dynamic IP address for nodes logging into a specific network. IP Address Management (IPAM) facilitates the automated organization, monitoring, and control of a network's IP address pool.
A DDI solution integrates these components into a single network management platform.
GigaOm recently published a comprehensive and enlightening report on DDI which evaluates the key players in the market. In this article, we look at the state of that market and consider the target demographics associated with a range of DDI deployment models.
DDI Market Growth
DDI centralizes and automates fundamental network services and eliminates manual configuration by integrating DNS, DHCP, and IPAM services in a single solution. This helps to increase network efficiency and frees administrators to concentrate on higher-value tasks. DDI reduces management complexity, as enterprise networks expand with the addition of personal and IoT devices. A DDI solution can also save up to 50% on Operational Expenditure (OPEX) for IPAM, DNS, and DHCP.
These factors are contributing to significant market growth. A recent study by Fior Markets reveals that the DDI Market is expected to grow from US$533 million in 2020 to US$1771.61 million by 2028, at a Compound Annual Growth Rate (CAGR) of 16.2% during the forecast period 2021-2028.
DDI Target Markets
The GigaOm Radar report recognizes four target markets for the DDI sector. They include:
1. Cloud and Network Service Providers (CSP/NSP)
This market segment comprises Cloud Service Providers (CSPs) that deliver on-demand, pay-per-use services to customers via the internet, such as infrastructure as a service (IaaS), platform as a service (PaaS), and software as a service (SaaS).
It also includes Network Service Providers (NSPs) such as data carriers, ISPs, telcos, and wireless providers, which sell network services like network access and bandwidth. These services provide entry points to backbone infrastructure or network access points (NAP).
2. Managed Service Providers (MSP)
This class of service providers and DDI clients includes organizations that deliver managed application, communication, IT infrastructure, network, and security services and support for businesses. This may occur either at the customer premises, via MSP (hosting), or through third-party data centers (colocation).
3. Large Enterprises
This market sector consists of enterprises having 1,000 or more employees and dedicated IT teams responsible for planning, building, deploying, and managing their applications, IT infrastructure, networks, and security. These organizations implement their IT and network management either at an on-premises data center or a colocation facility.
4. Small-to-Medium Business (SMB)
This category comprises small businesses ( those with less than 100 employees) to medium-sized businesses (100-1,000 employees), with limited budgets and constrained in-house resources for planning, building, deploying, and managing their applications, IT infrastructure, networks, and security in either an on-premises data center or a colocation facility.
DDI Deployment Models
GigaOm recognizes several deployment models for the DDI sector, which the organization describes in two broad categories (on-premises and cloud-based) as follows:
On-premises hardware:

DDI components are deployed as a hardware-based appliance.

On-premises software:

DDI components are deployed on a dedicated edge node.

On-premises virtual:

DDI components are deployed in a virtual machine.
Cloud-based (private):

DDI components are deployed in a private cloud.

Cloud-based (public):

DDI components are deployed in a public cloud.
What Different Vendor Solutions Have to Offer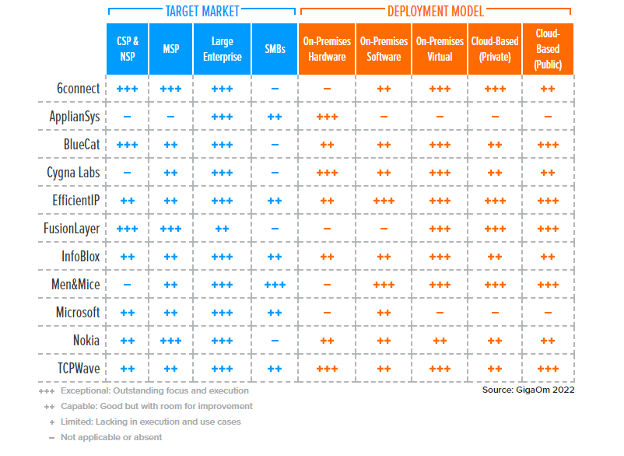 The GigaOm Radar report summarizes the organization's observations of how the DDI solutions offered by leading vendors support different target markets and deployment models in the following table:
[Image source: GigaOm]
When considering the service provider and telecom verticals, GigaOm singled out FusionLayer for its exceptional focus and execution in this part of the DDI Market. Offering centralized zero-touch operations, fully configurable data structures, and a patented Network Source of Truth (NSoT) spanning hybrid infrastructures, FusionLayer Infinity is an innovative IPAM overlay for both FusionLayer and select third-party DNS, DHCP, and IP addressing solutions, including Microsoft DNS and DHCP, F5 BIG-IP DNS, AWS, and Azure cloud stacks, and edge cloud technologies such as OpenStack and VMware Edge.
Using patented technology for managing IP and network assignments in multitenant, orchestrated environments with network overlap, Infinity supports centralized management of on-premises and edge and public cloud subnets, IPs, and VLANs in multitenant environment subnets, including AWS VPC subnets and Azure VNET.
To read the full market study, please click here for complimentary access to the report.